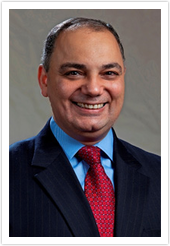 Dr. Amin Y. Ayoub
Dr. Ayoub is the first Dental Implants Honors graduate from New York University College of Dentistry. Following graduation, he completed advanced educational training for another year in Oral Surgery, Dental Implants and General Dentistry at the Bellevue Hospital Center in New York and an additional year of training in Implant Dentistry in New Jersey.

Dr. Ayoub is a Diplomate and Fellow of International Congress of Oral Implantologists (ICOI) & Fellow Academy of General Dentistry and an Adjunct Clinical Associate Professor at New York University College of Dentistry and Immediate Past President of the College Alumni Association Board of Directors and member of the board of directors of The University-wide Alumni Association. He is an active member of the Academy of Laser Dentistry and the American Academy of Implant Dentistry. He has been selected to participate in the Pearl Network, which is an office based research Network that is sponsored by the National Institute of Cranio-facial Research which is a branch of NIH (National Institute of Health).

In addition to running his practice, located in Rutherford NJ, he is teaching conducting research, and participating in dental associations. Dr. Ayoub conducts lectures about Dental Implants and advanced Bone Grafting techniques.